Electrical cabinets
UL-standard electrical cabinets
Contel's electrical panels factory is the only factory in the county with an approval for planning and manufacturing electrical and control panels in accordance with standard UL-508A, without a current limitation. Our UL- standard panels allow the client to benefit from a high- standard product at a low cost. Our panels provide solutions to dozens of Israeli manufacturers who export their panels to the USA and Canada.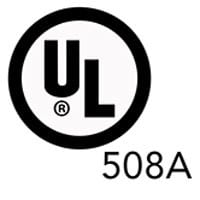 IEC 61439-standard electrical cabinets
Contel Electromechanics manufactures for its clients electrical and control cabinets in accordance with high industrial standards. Our cabinets are manufactured according to the IEC -61439 standard, which applies to the Israeli and European markets.
Types of cabinets made in our factory: control cabinets, electrical cabinets, MCC cabinets for starting up to 50 motors, load centers – up to 4000 amperes, and more.
Contel Electromechanics manufactures electrical panels for different industries in Israel and abroad, such as the petrochemical, food, desalination, pharma and plastic industries.
Contel's planning engineers will assist you from the initial planning stage up to the final delivery stage with updated as-made plans.